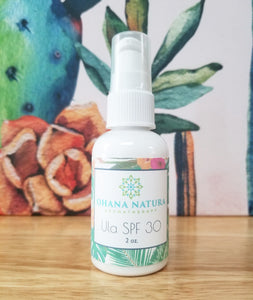 I believe in the healing powers of sunshine, but I know that as with every powerful medicine, sun can become dangerous when used recklessly and in excess. Many chemical sunscreen ingredients are suspected of hormone-mimicking and/or free radical damage-boosting qualities. Most over the counter sunscreens act by penetrating into the upper skin layers where they transform UV radiation into heat and chemical residue. So our skin is absorbing all those synthetics, which would cause chemical reactions, allergies, sensitivity. Another chemical found in conventional sunscreens, retinyl palmitate, is now considered to be carcinogenic (It may increase risk of skin cancer). Also 'organic' versions of sunscreens containing titanium oxide are not healthy at all. 

I strongly advocate the use of mineral sun protecting skincare products, also known as sun blocks. These include zinc oxide, a mineral powder that works by reflecting sun rays back into the air instead of absorbing them. Basically, sun blocks work like a million tiny mirrors on your skin, warding off all kinds of dangerous sun radiation.
Safe for children and adults. Face and body.
2 oz. Pump bottle